By Craig Ebert*

This is a thought piece. Not a conclusion piece. It's just that something about recent Reserve Bank forecasts continues to niggle us.
That is, their inference of a near-zero Official Cash Rate (OCR) in real terms, right the way out to 2021.
Yet the Bank has also inferred, by way of other material, that New Zealand's neutral real cash rate is in the vicinity of 1.50%*.
We are having trouble reconciling these two things, especially as the Bank is forecasting a positive output gap.
Indeed, if we can believe the Bank's current base case projections for the OCR, we reckon New Zealand's real cash rate will effectively go negative before too much longer. While the Q2 headline CPI disappointed market expectations (and ours), it hardly disturbed our view that annual inflation will keep pushing higher, reaching 2.3% in a year's time. The pickup reported in core inflation reinforced this, as will wage inflation trends soon enough.
But can we really be heading into an extended period of a negative NZ real cash rate? This prospect could, instead, be forcing us to confront the possibility that;
1. We have it all wrong on inflation. That it will, in fact, fail to pick up, even in the glacial manner the Bank currently projects (thus keeping the real cash rate moderately positive). But this would surely apply pressure on the RBNZ to cut the (nominal) OCR further to the bone, in an attempt to boost annual CPI inflation to 2%.
2. GDP growth won't live up to the Reserve Bank's expectations of robustness. There are certainly ongoing risks of this, in our view, including from recent indicators of near-term NZ growth (such as the PMI and PSI). But this would likely make for a slacker economy than the Bank is contemplating, again prompting a reach for the OCR joystick.
3. That the exchange rate will, for whatever reason, be charging higher, doing the monetary work. And to such an extent that the OCR will be forced to run extremely low for longer. But this, also, is not in the Reserve Bank's assumptions, which actually have the TWI running broadly sideways over the coming period.
4. The NZ central bank is in la-la land with its view of both a positive output gap, and a real cash rate persisting decidedly below its own estimate of neutrality, for a number of years.
5. The RBNZ misjudgment actually lies with the neutral level of the real OCR. Perhaps it is closer to zero, than the 1.50% it officially touts. To be fair, the Reserve Bank has estimated a range of approximately plus or minus 100 basis points on this, while also a slightly diminishing tendency in the mean over time. Nevertheless, this still suggests 1.50% might be roughly as much an underestimate, as an overestimate, of the "true" real neutral cash rate.
Either way, something doesn't seem to add up.
We are not quite sure how the conundrum is resolved. But a conundrum it is. Our best guess, at this stage, is that New Zealand's policy rate will need to rise by more than is currently anticipated by all and sundry, providing economic growth holds together and inflation continues to grind its way higher.
Conversely it would probably take a material slowdown in the NZ economy to reconcile with the idea of the real cash rate remaining near zero over the coming years.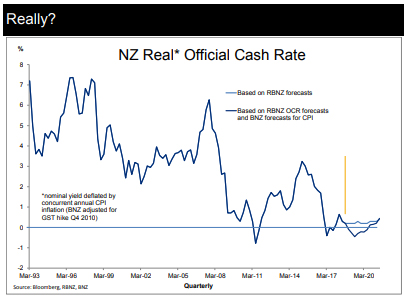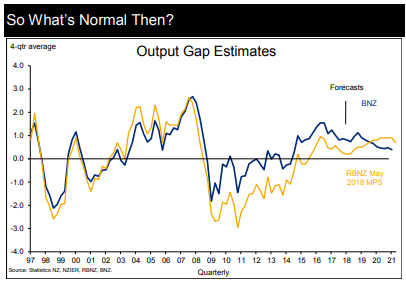 Underlying all of this is arguably a deeper clash of ideology – one that we sense all the time in market analysis and commentary. It all boils down to the impact you think interest rates are having on GDP and CPI, above all else.
In one camp are those who think interest rates are playing a crucial role in this regard. And so we should be careful in "normalising" rates, lest GDP and CPI fail anew. Not surprisingly, central banks are invariably in this camp. If they don't believe in their own tools, who else would be so bold? This way of thinking also manifests in the idea that economic projections hold together only because of the (usually accommodative) role of policy rates. Perhaps there is a bit of this in the Reserve Bank's latest set of forecasts
The other camp tends to claim that interest rates are well below the point at which they are providing a marginal boost to GDP and CPI (while the system largely heals itself, naturally via the passage of time, not because of prolonged monetary accommodation). But that the degree of monetary accommodation is having a powerful influence on asset prices, along with attitudes to leverage and risk.
The trouble is that, both schools of thought leave one nervous about the way ahead. One says the world economy is highly dependent on very easy monetary policy. The other says the financial system is now highly vulnerable to the removal of such monetary stimulus.
So, in the event that something does come unstuck, in trying to extricate oneself from low interest rates, both camps will probably say "I told you so". But with one saying we should have never tried, while the other says we should never have painted ourselves into such a corner to begin with.
---
*see speech by RBNZ Assistant Governor McDermott, "Looking at the Stars" (26 July 2017)
---
Craig Ebert is a Senior Economist in BNZ's Wellington dealing room. You can contact him here. This article was originally published here and is reposted with permission.